QUAD: Challenging Hegemonistic Designs of China in Indo Pacific Region By Maj Gen Rahul Kumar (Retd)
Total Views 1,313 , Today Views 3
What Is QUAD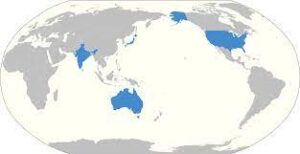 Inter-Governmental Security Forum: Members- Australia, India, Japan and USA
It is an informal alliance between four nations expected to contain China`s growing military and economic clout in the Indo- Pacific region. The Quadrilateral Security Dialogue (QSD, also known as the Quad) is an informal strategic dialogue between the United States, Japan, Australia and India  that is maintained by talks between member countries. The dialogue was initiated in 2007 by the then Prime Ministerof Japan, Shinzo Abe; with the support of the then Vice President of the US, Dick Cheney;the then Prime Minister of Australia, John Howard;  and the Indian Prime Minister  Dr Manmohan Singh. The dialogue was paralleled by a joint military exercisesof an unprecedented scale, titled Exercise MALABAR. The diplomatic and military arrangement was widely viewed as a response to increased Chinese economic and military power, and the Chinese government responded to the Quadrilateral dialogue by issuing formal diplomatic protests to its members.
Chain of Events
Lombok Strait
The QSD ceased following the withdrawal of Australia during Kevin Rudd's tenure as prime minister,  reflecting ambivalence in Australian policy over the growing tension between the United States and China in the Asia-Pacific.Following Rudd's replacement by Julia Gillardin 2010, enhanced military cooperation between the United States and Australia was resumed, 
leading to the placement of US Marines near Darwin, Australia,  Timor Sea
overlooking the Timor Sea and the Lombok Strait. India and US started the annual bilateral Naval exercise; the Malabar Exercise in 1992 which was joined by Japan in 2015 and Australia in 2020.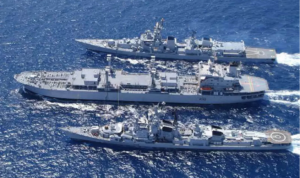 Malabar Exercise
During the 2017 ASEAN Summit at Manila, all four former members agreed to revive the quadrilateral alliance in order to counter China militarily and diplomatically in the South China Sea. Tensions between Quad members and China have led to fears of what was dubbed by some commentators as a "New Cold War" in the region.
In a 2021 joint statement, "The Spirit of the Quad," Quad members described "A shared vision for a Free and open Indo- Pacific" and a "Rules-based maritime order in the East and South China Sea," which Quad members state are needed to counter.
Chinese Maritime Claims
The Quad pledged to respond to COVID-19 and held a first Quad Plus meeting that included representatives from New Zealand, Republic of  Korea (South Korea)and Vietnam to work on its response to it. Widely viewed as intending to curb "China's growing power," the Quad's joint statement drew criticism from China's foreign ministry, which said the Quad "openly incites discord" among regional powers in Asia.
US Stand
In his maiden speech to both the houses of the Senate on 28 April 2021,President Joe Biden made a statement that U S A will support his QUAD  partners in keeping the Indo-Pacific region (South and East China Sea) free of any interference. This region is of great economic and  geostrategic importance. It is worth knowing that 1/3rd of maritime shipping, amounting to US $ 3 trillion annually, passes through this region. Also, this region contains the maximum of dee sea petroleum and natural gas below its seabed. Its lucrative fisheries sustain millions of people in SE Asia. Perhaps that is why China wants to keep a control over it. The effected countries want to maintain a free and open Indo-Pacific which includes the Timor Sea and the Lombok Strait.
How does India benefit by being part of the QUAD?
One of the focus areas of the QUAD is maritime security ; the QUAD leaders have spoken of the need for a free and open Indo-Pacific. The expansion of the MALABAR exercise, a regular military drill India and the US conduct since 1992 and has been joined by Japan since 2015 and Australia in 2020, to include the QUAD could be seen as a sign that India will benefit militarily. With the US prepared to increase deployment in the Indo-Pacific region, the expanded MALABAR exercise will send out a signal to China that the QUAD is serious about its China containment strategy. While India has traditionally been against militarization of the QUAD, it may soften its stance in the wake of continued Chinese aggression on India's borders.
What does China think of the QUAD?
Any sign of its neighbours banding together is not welcome to China. Last  year, after the Quad foreign delegation`s conference, Chinese delegate stated that China regarded the meet as an alignment of a regional clique. India`s foreign minister, S Jaishankar replied that nations should respect  each other`s national integrity and not violate it. This was a clear hint to China.            China also terms the alliance as A New Cold War.  Take it or leave it.
Conclusion
India is at the receiving end of China`s expansionist thrust. Consider its various intrusions into India-Eastern Ladakh, Galwan Valley,Arunachal Pradesh and the well-known String of Pearls.There appears to be an inferred indication that China continues to include India into its scheme of things. It has taken Tibet, Macau and Hong Kong.It is no longer the Opium Nation.It is economically and militarily much stronger. It has made an official claim that it has eliminated poverty. There are no more any poor people in China.
We as a nation, have to be very wary and be prepared to play a different ball game.
That is what gives a new meaning to QUAD altogether.
Author – Maj Gen Rahul Kumar is a retired Indian Army General Officer who has served in Jammu & Kashmir, NE,  various appointments at Command and Army HQs.  After retirement is pursuing his favorite hobby of writing for newspapers, journals, and think tanks.
Disclaimer: The views expressed are those of the author and do not necessarily represent the views of the organisation that he belongs to or of the STRIVE. The author is responsible for the content and the analysis.