Lengthening Shadow of China on India's Neighbours: Implications for India by Team STRIVE
Total Views 2,586 , Today Views 3
Introduction
On 23 Jun 2021, a webinar was held under the aegis of STRIVE in collaboration with the SVIF on the above topic. For focused discussion four countries, namely; Afghanistan, Nepal, Myanmar and Sri Lanka were identified. Four subject experts who very graciously agreed to share their perspective were; Sri Sunil Pant, member Board of Directors of the Ghazanfar Bank Afghanistan on Afghanistan; Sri Ranjit Rae, a former Career Diplomat, who has been India's Ambassador to Nepal and a keen Nepal watcher on Nepal; Sri Shyam Saran, former Foreign Secretary and a former Ambassador to Myanmar on Myanmar and finally Dr L. Venkateswaran, Director and Associate Professor,  International Affairs and Security Studies Programme, at the School of Foreign Affairs, Languages and Political Economy at RRU on Sri Lanka.
Salient Points of Talks of Speakers
Sri Sunil Pant– https://youtu.be/9PZaGr-75sA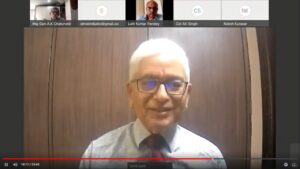 In the battle with Taliban, the Afghan Army is running away. Only Special Forces are holding on but they are stretched. Northern Alliance is the shadow of past. A dominant force in fight against the Taliban, the Afghan Air Force is deteriorating. ISIS is lurking on the side lines. Afghanistan will continue to remain a hotbed of international intrigues in the future. Next few months are going to be critical.
The afghan economy is 60% on doles. Afghanistan which is as it is one of the poorest countries in the world with 48% of its people below the poverty line, saw a further decline and her currency has gone down by 70-80 % in last two months.GDP has nosedived by 10%.
Indian influence is waning in Afghanistan. Afghan population still appreciates India, on account of its support for training, education and many other areas of nation-building and the infrastructural support India has been providing. Indian soft power is still there however things are changing and Turkish influence is seen to be increasing. India is advocating an Afghan-owned and afghan led Afghanistan, however, India can play only a supporting role as India does not have the capacity to make a sizable influence. In a pragmatic move of diplomacy, so that it remains relevant in the future scheme of things, India has opened a backchannel communication link with a section of Taliban. Pakistan has her issues with India and will make an effort to keep India out of Afghanistan. However role of Saudi Arabia will be critical in this regard.
The US response to the evolving situation has dismayed Afghans. China may try to exploit the void created by the US. China has two interests. Firstly, she fears that if Afghanistan becomes Islamic State, fundamentalism may seep in to Xin Jiang and influence the religious minority there. Secondly, her dominance in Afghanistan may help her to find an alternative route for the CPEC to Iran and help her to reach the Persian Gulf. However, Chinese credibility in Iran is quite low as their projects like oil exploration in Amu Darya Basin and Copper mines exploration in Mes Ayank have not progressed as promised.
Afghans are not distinguished in the field of diplomacy. A tough period of Afghanis and a period of great flux ahead.
Ranjit Rae- 3 sets of issues:
1st set– Sea change in Nepal- China relationship:-

Earlier China was concerned about Tibetan refugees in Nepal. Hence, limited engagement and role for China were envisaged. In recent years –a huge change in the range of issues between Nepal and China. The relationship got formalised during the visit of Xi Jinping in Nov 2017. Post the visit the relationship got enhanced to a strategic partnership level. Now it goes beyond BRI or Trans Himalayan connectivity project.
Apart from economic engagement, The defence cooperation between China and Nepal is increasing and Indian domination is diminishing- by the way, none of the Indian defence ministers has visited Nepal in recent times.
In recent times China has started interfering in the politics of the country and the Chinese are engaging at party (CCP) to party (Unified Nepal Communist Party) level-India needs to watch it. Keeping in view that the political relationship between China and Nepal is important, China is trying to unify all communist parties in Nepal. Communist (Chinese) thoughts are nowadays being discussed in Nepal. However, there has been a setback to their efforts and the communist party in Nepal has got split. With the recent decision of the Nepali Supreme Court ruling that the recent appointment of 20 ministers after the dissolution of the House of Representatives by the beleaguered PM was unconstitutional, Nepal is currently in turmoil.
Major projects being allotted to China on govt to govt basis. These are;1200 megawatts hydroelectric project and the Pokhara airport project. As against these terms, India got all its projects based on global bidding. It is strange that India despite offering funding at 1% interest against China which offered funding at 2% interest and yet China bagged these projects.
Soft power arena – China is making big inroads in tourism, music and films and also at the sub-regional level, Nepal is drifting from India. A case in point is BIMSTEC military drill in 2018 in India which Nepal did not join.
Although China making incremental inroads into the body politic of Nepal, however, fact remains that nobody can replace India in Nepal.
2nd set -why is it happening? There are many reasons for this. One of the important reason is incongruence in the security perceptions between India and Nepal. India sees China as a threat and Nepal views China as an opportunity.
3rd set- How do we deal with this?

Step up our economic engagement in Nepal. Nepal questions, India feeling uncomfortable with Nepal's economic engagement with China while she herself is having a sizable economic engagement with China.
Enhance connectivity projects.
The speed of Indian implementation on projects must increase.
Build Back Better World (B3W)as announced during the recently concluded G-7 Summit may possibly lead to a change, however, more details, as and when come out, will clarify as to how much of it is an alternative to the BRI project.
India must step up engagement with other political forces in Nepal
Shyam Saran –
salient points of his talk are as follows:-
Internal Situation– It is turbulent. Several ethnic armed groups are also involved. The country is possibly heading for a civil war. Some important related issues are as follows:-

Politics of Myanmar – 3 political actors – Myanmar army (Tatmadaw), political dispensation: National League for Democracy (NLD) and various ethnic groups, which are desirous for autonomy or independence. The entire politics is the interplay between these three groups. Earlier China had backed Tatmadaw in reaching agreements with those ethnic groups which are concentrated near China border in return for autonomy. Now ethnic groups, less those few who are linked with China, are working with the NLD. Since Tatmadaw is not on board and hence the turmoil is continuing.
NLD is not happy with India cosying up to Tatmadaw- in this connection it is to be noted that India had abstained on a resolution in UNGA on 'Situation in Myanmar' on 18 June 2021. This indeed was a move which showed that India is not fully in support of NLD.

Advantages of China–

China's access is North to South along the river valleys as against India which has access from West to east which is against the grain of the country.
Development of Kyaukpyu port from where they are developing a pipeline to Yunnan. This will help her to avoid 'Malacca Dilemma', besides exploiting the oil and Gas available offshore A-1 to A-3 blocks in the area.

Case of India–

India invested in the development of Sittwe port but, there is an implementation issue and like most Indian projects it is running behind schedule.
India has a border of 1400 km along those provinces of India which have active insurgency issues. These insurgents find a safe sanctuary in Myanmar.
Another strategic reason for India to engage with Myanmar is that both the countries share maritime boundary in the Bay of Bengal and an inimical presence in Myanmar will threaten Indian interest in A&N Islands.
India does not have scale to match China therefore India will have to find more innovative ways to counter China's influence in Myanmar.
Asset which India is leveraging- Firstly engaging with Army which is always apprehensive of China.However, we should also engage with the NLD and should not give the impression of taking sides.
India feels that ASEAN is the best agency to bring reconciliation in Myanmar and as such is working it to work.
Dr L.Venkateswaran-   it needs to be noted that the objective of the policy of China is not only to contain India in these countries but to increase its reach by engaging with them. Following points from his address are relevant:-
India's relations with China is complicated and asymmetric.
It is true that Indian influence in her neighbourhood has weathered away and the advantage of an immediate neighbourhood cannot be taken for granted.
India needs to note that her smaller neighbours have evolved. During such discussion, Bhutan also should also have been included while discussing neighbours because China's efforts to make inroads into Bhutan should not be ignored. India also needs to do more with Bangladesh and Maldives lest they also drift away as other smaller neighbours, which are being discussed today, are drifting away.
Relationship with Sri Lanka, at present is most challengingespecially with the correct dispensation in Sri Lanka. Increasing Chinese presence in IOR under multiple avenues – evacuation, Humanitarian Assistance, escorting ships, anti-piracy etc is a matter of concern for India. This involvement of China in IOR cannot be ignored because it is part of Chinese attempts to make inroads into IOR.China's engagement in Sri Lanka in view of the of IOR is more important for us.
China may not be apprehensive of India but is definitely concerned that India has capability to slow down their initiatives of taking BRI/MSR.
It needs to be appreciated that China's dependence on keeping the sea lanes free from any threat is quite critical as a substantial amount of her trade and a very large amount of her oil and gas requirements use these sea lanes, as such it is also a vulnerability of China. No wonder post 2008 one can see increasing footprints of PLA Navy (PLAN) in the IOR. To address this vulnerability China is attempting to find options to avoid Malacca Strait through her BRI. One such option was covered by Ambassador Shyam Saran in his talk. Since safe passage through this maritime sea lane is a core issue with China till other options work out, she will try to protect her passage and that will be in conflict with strategic interests of
India needs to engage with her neighbours so that Chinese assets in their countries are not used against India.
Even after 2019 election the current political dispensation (Rajapaksa brothers) have categorically stated that their policy will continue to remain, 'India First'. India had also reciprocated on all bilateral issues. India needs to continue engaging with Sri Lanka to persuade them to walk the talk. This policy should not be exclusively in the case of Sri Lanka but India needs to continue engaging with the neighbours.
One important problem facing all countries of the South Asian Region is 'Terrorism'. This is an issue on which India and Sri Lanka have total agreement, because post 21 Apr 2019, when terrorists struck in churches in Sri Lanka it is a national security issue with Sri Lanka.
One thorny issue between India and Sri Lanka is rights of ethnic minority of Tamils in the Island State. 13th amendment of Sri Lankan Constitution which talks of devolution of power to Tamils and which was one of the main planks of the Indo Sri Lankan Accord of 1987 has still not been implemented. During the meeting of the PMs of the two countries in Sep 2020 the PM of India stressed the need for devolution of power to Tamils and thus devolution and development to go hand in hand.In this case India needs to engage with Tamils and Sri Lanka both.
Both the countries need to engage each other on all major issues at all times. Despite China remaining a factor in Indo-Sri Lanka relations India will have to continue engaging with Sri Lanka in defence cooperation. Sri Lanka is a priority 1 defence partner of India and hence defence ties are moving forward. High levels visits between the two countries is an indicator that things are moving forward in the correct direction.
Difficult to match the Chinese financial assistance, but the mounting external debt of Sri Lanka needs to be flagged to the Sri Lankan govt. India needs to encourage that Sri Lanka diversify their borrowing.
India also needs to engage with Sri Lanka resolve on irritants like fisheries rights. Recent act of Sri Lankan Navy to have shot Indian fishermen should not happen in future. In this connection a Joint Marine Resources Management Authority should be a way ahead. Also QUAD has been a cause of concern for Sri Lanka. India needs to explain the objectives of the QUAD to ally the apprehensions of Sri Lanka.
Issues addressed during Q&A Session
Use of civilian ports during war time by warships may amount to that country being at war with the country against whom the Country whose warships use the port. In recent time China had docked its sub marines at civil port of Colombo. What should this action be construed ? Mr Shyam Saran clarified that it was the financial muscle of China which forced Sri Lanka to accept Chinese assertion- India needs to take due cognizance of such an action and find ways and means to tackle this situation by using diplomacy and other measures as appropriate.
In the Taliban there are different voices like Mulla Yakub who heads Quetta Shura is the ideological head, Sirajuddin Haqqani leads the faction which is pro Pakistani and Mullah Baradar does a tight rope walk and is amenable to talk to the Afghan govt. In view of this situation how will the situation pan outpost US and Allied Forces withdrawal- Situation remains fluid, however once in power, whatever be the combination of the power structure, it is unlikely that Pakistan will have their way with the Afghan govt.
A&N Islands are very important to India's strategic security. However, with China sitting firmly in Kyaukpyu and in Hambantota, A&N Islands have become vulnerable. Considering the vast asymmetry between Indian and Chinese and maritime assets, what are the options for India- Investing in Naval assets and further strengthening the A&N Command is the way ahead. Also further strengthening the QUAD will be the way ahead.
Aggressive involvement of China in Nepal with a govt in Kathmandu which is not very friendly to India, is a matter of concern and that may create security concerns in area stretching opposite Bihar, Uttar Pradesh up to Siliguri Corridor. What are Indian options- It is true. Infact Nepal has already made a road parallel to Lipulekh road. India has to be prepared to deal with a hostile Nepal abetted by China. India has to come out with a more innovative approach with a combination of strengthened defence preparation with diplomacy.
Compiled by Maj Gen AK Chaturvedi , Maj Gen Harsha Kakar and Team STRIVE.
Lengthening Shadow of China on India's Neighbours: Implications for India –  On Afghanistan by-  
Mr Sunil Pant is a Kabul-based Afghanistan watcher who is presently a member of the Board of Directors of the Ghazanafar Bank, Afghanistan. (Video – 25.25 Min)
Lengthening Shadow of China on India's Neighbours: Implications for India –  On Nepal by-
Sri Ranjit Rae: a career diplomate who had been the Indian Ambassador to Nepal. Presently a keen Nepal watcher and an eminent voice on India's foreign relations. (video 13.23 Min)
Lengthening Shadow of China on India's Neighbours: Implications for India –  On Myanmar  by-
Sri Shyam Saran, Former Foreign Secretary. Presently he is a Senior Fellow at the Centre for Policy Research India. (Video 17.29 Min)
Lengthening Shadow of China on India's Neighbours: Implications for India –  On Sri Lanka by-
The speaker on the Subjects is Dr Lokanathan Venkateshwaran. He is Director and Associate Professor, International Relations and Security Studies Programme at School of Foreign Affairs, Language and Political Economy, Rashtriya Raksha University, Gandhi Nagar. He also has been a former Assistant Director of the National Security Council Secretariat. (Video 24.09 Min)