NIZAM – I – BHOPAL – by Lt Gen Milan Naidu, (Retd)
Total Views 3,841 , Today Views 3
In NIZAAM-I-BHOPAL, Lieutenant General Milan Naidu has charted the transformation story of rag-tag forces of the princely states, from the early 18th century to that of the modern army. He has lucidly described the socio-economic-politico environment which existed in those times and analysed the evolution, rules, service conditions, ceremonials, and battles fought by the State Forces, with special reference to Bhopal State.
I wonder how many people are aware that in 'World War I, the Bhopal State Force, part of the Indian Expeditionary Force, was the first non-European troops to disembark at Marseilles and march onwards to fight in France. Or that a Bhopal battalion was awarded the Victoria Cross in Mesopotamia. That same unit is part of Pakistan now. In the 1965 India-Pakistan war, this battalion was awarded Nishan-e-Haider.
With such historical genesis and background of the State Forces, Milan Naidu helps us to understand how much of our present-day army developed its traditions, values, and ethos: the singular character which made it win the Kargil war despite the severe adversities.
This book is of true historical value, especially because of the painstaking research, much from many primary sources, obtaining information from abroad (including Pakistan), interviewing the progeny of the old soldiers, and finally putting all of it in order.
The author's observations on the governance and policies of the rulers help us to trace the developmental process of the State. How these issues impinged at various times on the State Forces is reflected subtly. Some of the anecdotes narrated in the book are hilarious, and some quite poignant.
A well-researched Book written by Lt Gen Milan Naidu (Retd), Former Vice Chief of Army is now on the Book Shelf for collection and reading.
A detailed review of the book, Nazam- I- Bhopal is written by Lt Gen Bhopinder Singh (Retd) at the end of the book – "Geographically, culturally and emotionally, Bhopal, is the civilisational heart and vibrant soul of the sub-continent, and indeed, in the making and shaping of modern India. The syncretic values, refined tehzeeb, and glorious martial traditions make it a treasure trove of antiquity and national conscience. From Parmara Kings, Afghan chieftains, Mughal Empire, Maratha Rulers, British Raj to the wounds of the subcontinent's vivisection – Bhopal has been a silent witness and dignified participant in the making of the history. It carries within its recesses of the old city and the deep calm of its lake, many untold stories and testimonies that now demand space and place in the imagination of our nation and region.
It is only befitting that this wistful narrative is brought out by Bhopal's very own son, Milan Naidu, who personifies that gentility, sophistication and aesthetic refinement to do justice to any literature to do with Bhopal. As a thoroughbred officer-and-a-gentleman with the highest military credentials and an illustrious career behind him only he could have produced such an exquisite and masterful body of work in 'Nizaam-i-Bhopal'. The unforgiving ravages of time, circumstances, and dominant instincts that governed its leadership from time-to-time, have been minutely analyzed, explained, and postulated for posterity. The rich, unsung, and often unknown facets and tapestry of Bhopal's military traditions, legacy, and its continuing imprints are generously captured, documented, and brought alive in this book and I would urge all serious academicians, historians, cultural buffs, and even the younger generation to read this invaluable and thoroughly enjoyable piece of work.)
(Lieutenant General Bhopinder Singh, PVSM, AVSM, Former Lieutenant Governor of Andaman and Nicobar Islands, and Pondicherry. Former Colonel of the Rajput Regiment, The President's Body Guard, and Army Physical Training Corps.)
Should anyone want a copy, please order here:-
Vij Publishing Group
2/19, 2nd Floor, Ansari Road, Daryaganj, New Delhi – 110002 (India)
Ph + 91 11 43596460 | 43596460 | Mob – (+91) 9999005622
Web: www.vijbooks.com
Author –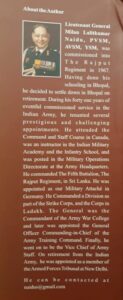 Lt Gen Naidu was born and brought up in Bhopal. He had his schooling at St Joseph Convent School, Bhopal, before joining the National Defence Academy in 1964. He took a commission in the Rajput Regiment in 1967. He has done MSc in defence studies and holds a master's degree in ecology and environment.
Lt Gen Naidu has held many important staff, instructional and operational appointments of the Indian Amy. Prominent among these are Instructor in IMA,  Military Attaché in Germany, GOC of a Division, 14 Corps, Commandant Army War College. He was also GOC in C  ARTRAC and Vice Chief of Army Staff. He Commanded 5 RAJPUT in Operation Pawan (Sri Lanka) and was awarded YSM. Gen officer was also a Member of Principal Bench of AFT New Delhi.
Disclaimer: The views expressed are those of the author and do not necessarily represent the views of the organisation that he belongs to or of the STRIVE.